Motivational Articles
The 12 Most Popular of All Time
Motivational articles are what has made IntenseExperiences.com famous ... and the most popular and trusted personal growth newsletter in the world! (Do not miss "3 Gifts for You!" to the left!)
Below are the top twelve all time most popular motivational articles on IntenseExperiences.com since we started publishing original works in 2004.
Enjoy the motivation!
The Top 12 Motivational Articles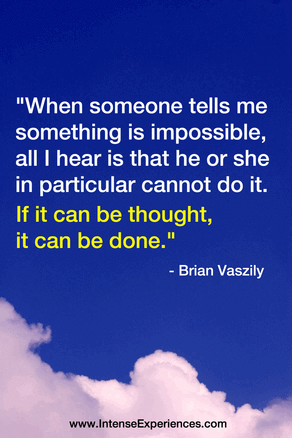 1.
Who You Are, Who You Are Not: Meditation for Challenging Times
2.
11 Powerful Motivational Thoughts
3.
Three Timeless Motivational Poems
4.
Motivational Article: First Class Flyers Who Complain About Pretzels
Motivational Article 5:
Motivation for the Broken-Hearted and Lonely
6.

What Everyone Forgets to Do in Challenging Times (a Motivational Article to Increase Energy and Productivty)


7.

How Too Much Routine is Secretly Making Your Life Hard



Motivational Article 8:
Motivational Thoughts from a Yellow Bird on How to Change Your Life Now


9.

You Have Had a Far Better Day Than You Realize


10.
A Short Motivational Article for Those Feeling Sorrow About Anything



Motivational Article 11.
How to Overcome Bad Days, Negative Emotions, and Challenging Situations Using Contrast


12.
Sports Motivational Quotes - 25 Best of ALL TIME





Do NOT Miss The 25 Best Motivational Quotes EVER

...and please click "LIKE" below...

if you enjoyed these motivational articles