8-Foot-Tall Pickles &
900 Pound Brass Acorns:
Towns Dropping Far More Than a Time-Ball on New Year's Eve
by
Brian Vaszily
, founder of IntenseExperiences.com
This New Year's Eve, one billion people will watch the time-ball in New York's Times Square drop to signal the beginning of another year. Millions more will watch other more unusual things drop, such as those listed below. (And still billions more will watch their eyelids drop hours before the year turns.)
To commemorate the 100-year anniversary of the Times Square event, a new ball is being unveiled this year.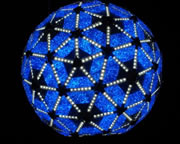 The attractive ball, designed by Waterford Crystal, has a range of lighting special effects and is twice as bright as the previous ball. There have been at least eight ball changes since the first one, which was constructed of iron and wood and adorned with 100 25-watt light bulbs, was dropped in 1907.
Dropping a time-ball dates back well before that New Year's celebration in Times Square, though. The first was installed at England's Royal Observatory at Greenwich in 1833. It would drop at 1:00pm daily to allow captains of ships in the vicinity to precisely set their chronometers. This is how dropping a ball became associated with time.



The Broasted Chicken Has Fallen … Happy New Year!
A number of different cities besides New York do a time-ball drop on New Year's Eve, such as Twin Falls, Idaho and Pittsburgh, Pennsylvania. But more curious is the different types of objects other cities drop to mark the official passing of the year.
A 900 pound brass acorn is dropped in Raleigh, North Carolina.
A beach ball is dropped in Bangor, Maine and in Ocean City, Maryland.
A sardine is dropped in Eastport, Maine, while over in Prairie du Chien, Wisconsin, a carp is dropped.
Fittingly, an orange is dropped in Orange County, California and in Miami and Orlando, Florida.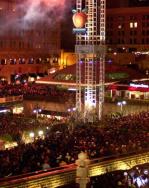 A
hog
is dropped in Fayettville, Arkansas. (
Check here for the Hog Drop location and schedule.
)
But Pennsylvania is the hands-down winner when it comes to its various towns dropping unusual things on New Year's Eve. And each surely has their story behind why.A lollipop in Hummelstown. A sled in Duncannon. A cigar in Richland. Not surprisingly, a frog in Frogtown. An 8-foot-tall pickle in Dillsburg (though the town was named for a person, not the flavor.) An entire steamroller in Steelton.
Pottsville, PA will go the other way and raise a mock green beer bottle. In part, it is to celebrate America's oldest brewery which is located there: Yuengling.
Probably my favorite just because the story behind why has to be quirky, and those who embrace the idea would have to be, too: a broasted chicken drop in Seven Valleys, PA (at The Valley Tavern there, if you are interested in attending). There's just something about watching a broasted chicken drop as the final seconds count down that promises an interesting New Year.
For more, check out this comprehensive list of dropped items on New Year's Eve.



What Would YOU Drop?
And now a question for you to ponder and ask your family:
What item would you drop, or raise, to bring in the New Year? What item is worth honoring as such in your inner-society called your family because it symbolizes, at least in part, where you are at today, and where you are going?
Perhaps your parents, grandparents, great-grandparents, etc. toiled hard in the fields as immigrants to make a life for themselves and future generations (i.e. you) here, and in part you are fortunate enough to be where you are and where you are going because of them. How about, in their honor, a pitchfork drop? An overalls drop? A cow drop?
Perhaps where you are and where you are going was built, in part, upon the foundation of a family-owned business, such as a factory that produced something… and so a New Year's Screw Drop? Couch Drop? Widget Drop?
My Mother worked hard for decades to help support us and lead us toward a good life as an Administrative Assistant, so in her honor I am considering a typewriter drop to bring in the New Year. Or, because I might be out and about on New Year's Eve and hauling a typewriter around could prove challenging, I might keep it simpler and go with a ballpoint pen drop in her honor (it could also double to honor my key profession as a writer).
If you are interested in attending my first annual New Year's Eve Pen Drop instead of watching the new time-ball drop in Times Square (or watching the broasted chicken drop in Seven Valleys, PA), I'll be somewhere in Toronto, so look for me there.